A long way to Jaffna used to be a great adventure even in times when any visit at those places was still possible. To the north of Anuradhapura, along the road A9, which exactly splits the northern province into halves, convoys of trucks crowded round the roadblocks. Even a long time before 1983, the police stations and other public facilities were protected by bags of sand and looked like strongholds. Sometimes one could see the truck drivers using the waiting times to bring the victims to some of small temples and sacred statues along the road. They also bought coconuts to smash them on some of the sacred rocks. They tried to read from the brown shell cracks whether their way to the north would be safe. Such scenes were different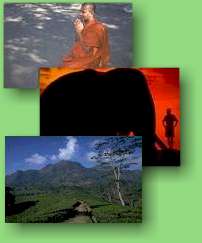 from the ones that a traveller could see in Buddhist monasteries and religious places on southern areas. Even the faces of villagers looked somewhat more straight the faces of Sinhalees living on the rich and nice south part of the island. The landscape: flat, fissured, ploughed by many streams, channels and artificial water reservoirs – vital sources for vegetable, cotton and tobacco fields treated by always diligent Tamilan. The elephant coomb, where trucks slowly pass a dam at these days, used to be only a ford before. Elephants were driven through that narrow place of Jaffna lagoon to the very north for pompous temple ceremonies.
Formerly, when the travelling used to be still possible, another world began behind the coomb, which is understood as a border between two enemy countries now. One could think that India is much closer than Colombo or joyful Southeast (and not only from the geographical point of view). The northernmost part is arid; there is no rain for ten and even more months. Even in spite of that, a sophisticated irrigation system, which was constructed many years ago, allows the farmers to grow vegetables and the best island's mangoes in the sandy soil. Formerly, million people inhabited the peninsula. The country full of vast sand dunes, which is located close to Point Pedro is called a "small Sahara". It is a desert where you can find palmyre palms and Christian crosses. The north looks more wilfully on islands that are located to the north of Jaffna. Kayts, Punkudutvu, Delft are the islands between two worlds – Sri Lanka and India: land, which is flat like a griddle cake, salt plains, palmyre palms. There are long queues of women with jugs and vessels waiting at wells or trucks with fresh water. There is lack of water on islands. There are wild horses on Delft. They are descendants of horses that were brought to that place by Portuguese colonists. It is said that ships of the king Solomon full of jewellery, spice, exotic animals and legends visited Kayts port. Tales of old times do not fit in these days. The terrorists of Tamil Ilam, who tempt for forced independence of north and east provinces, organised supplies of weapons from the subcontinent for a very long time. But when the terrorists had assassinated Rajiv Gandhi, India stopped and official support of Tamilan radicals in Sri Lanka. International experts did not regard the second independent state on Ceylon (lets remember a sad example of Cyprus) as viable. Besides the restive territorial reforms, visitors were mostly attracted by Buddhist temples and holidays. Even if there was not a right time for pompous processions in the time of summer full moons (with participation of thousands of worshippers), it was possible to watch religious life of Hindu. It was very different of a common life of Buddhists. Ascetics with white beards, sitting in dusts with their skin covered by ash, priests and pilgrims crowded in shadows of temples, mysterious sounds of drums, labyrinth of lights and dancing shadows accompany a ubiquitous dance of gods. For long months, the carvers have created ornaments and other decoration for temple chariots that were hauled through the streets of Jaffna and surrounding villages in the time of July and August full moons.